i love fashion week(s). i am a total nerd about it..there are certains shows in the certain cities that obvs are the ONES TO SEE and i am constantly trying to find the sites that put them up the fastest (
italian vogue's site
is where i go first, they put them up right quick). so far en milano here is what i am FA-REAKING OUT over:
marni marni marni marni
...i want it all.or at least most. or how bout just like, one thing? these SHOES are straight out of my 90s ugly/amazing wishlist...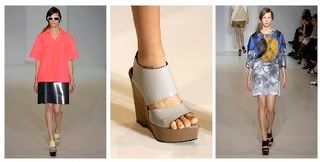 jil sander...
this is not anything i will ever WEAR, per se, but..the colors are so so beautiful and exciting..if you go look a the whole show the palette is SICK. NEON PANTS FOR EVERYONE NEXT SUMMER!
and obvs, my most fave so far,
PRADA.
if mr marc is the mayor or bananaville, miuccia is totes the first lady. no, the governor. no..the queen? prime minister? the government in wack-lamabad is kinda sketchy.
well anyway. so, for reals, someone has been in my head and its this italian crazy lady. i need these tights. and bags. and some of the shoes. and all the dresses. did you get that? mmmkay, thanks.