this is not-so-new news but..the new logo? for
another magazine
? i don't want to say it sucks, but it sucks.
they have redesigned the whole magazine and it completely disappoints. the typeface is weirdly blobby and alreadly looks dated and they have instated this strange layered photo/shape/color/pattern thing that happens with the headlines and such that is kinda labored and exhausting just to look at. they should have just left well enough alone. look how shitty the cover looks and that is the simplest layout of the whole book.
the only saving grace is the craig mcdean / MARIE AMELIE SAUVE story. MAS gets CAPS because i am OBSESSED with her. she is my favorite stylist (um, yeah, i have a favorite stylist. i don't wanna hear it). of all the bitchy fashion frenchies to love (carine, emmanuelle...) she is my number one.
and i do love the way the story is laid out..and it goes on and on for like 900 pages...these are some of my favorite spreads and also some of my favorite things from this season (comme de garcon dress-with-a-tiny-dress-on-it, red chloe boots, that fucking balenciaga scarf with metal fringes which is like, 6 thousand dollars. no, i am totally serious.)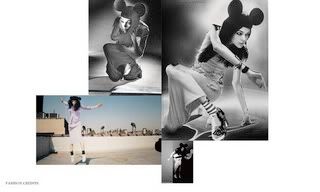 i took all this shiz from their website, obvs. i guess i could've scanned it. whatevs.