so..the hills continues to be about pretty muchhhh NOTHING and yet, and YET..i am rapt.
i wish it was on every day, i wish episodes were hours long, i wish there was a 24 hour live webcam.
tonight's episode continued on the kinda shockingly boring path that is LC's life. is she EVER like..excited or reallly happy about anything? LC, should we be concerned? you are always so ...blah.
(you know what i do love though? whenever they show scenes about "work" over at TEEN VOGUE whitney is always, like, color coordinating the thong closet or alphabetizing the fat free gum like a good magazine girl and lauren is..texting audrina or yawning. or saying, 'omg a boy totally called me'. SHOCKER that she is on year 2 of clipboard duty at the bottom of the intern pile)
so mabes she was just really really TIRED when she decided to go out with the LEAST attractive male model i have ever seen. where did THIS GUY come from? what kind of modeling do fried hair wrinkly boring dudes do? dockers ads?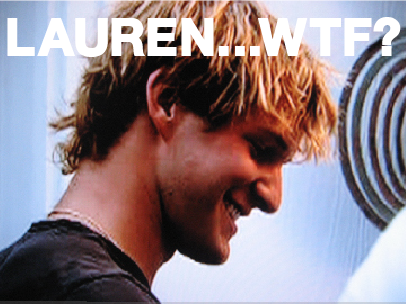 also
as HEIDI becomes more BLAND her HAIR becomes more BLONDE..and i get more and more afraid for her life. spencer pratt, pimp of pimps, is so fucking SCARY, you guys.
look at his EYES! heidi, he is 2 weeks from making you put the lotion in the basket. run for your LIFE.
oh and i am voting for LO as president of awesomeness, inc. lo flashes her ladyparts and makes out with the mexican bro and eats ice cream and says justin bobby is a loser. MORE LO!!!