tonight's episode of the hills made me OFFICIALLY HATE YOU, LC. i feel like tonight you were revealed to be A) a lifeless zombieface and B) and supercunty bad friend.
(now, here is the thing, if we're keeping score..i hate BOTH of the 'main characters'; LC and heidi. they both kind of suck. is that ok? i live for whitney and LO (lo, lo, lo, more lo!!!) and frankie the ETHNIC FRIEND and duh, justin bobby. even so, there is only one reason to love mondays annnndddd...its the hills)
ok so:
lauren and whitney were sent to new york for a day to present a floor plan, flower arrangement photos, and a picture of a tree to amy astley, EIC of teen vogue. in other words...whit-whit was a lovely, bubbly, blonde, EMAIL MESSAGE.
i mean, i get that the CONDE has all kinds of cash money money but really, all of her little boards basically had like, cell phones photos on them that lisa love (i.e. lisa loeb's grandmother) could have toooootally just ELECTRONICALLY MESSAGED over to 4 times square. but i guess that doesn't make for very interesting tv. well, anyway.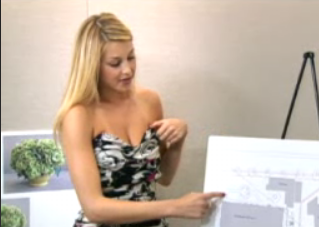 whitty-whit in the fancy dress pointing to 'the garden'...fascinating!
LAUREN that secretly hateful undermining friend had nothing but WHATEVS for poor whit. whitney is like, ohhh what to wear and LC is all 'i have had a dress on HOLD for when i meet amy astley since i was born. so there, loser!' (ok, i'm paraphrasing) but then after the meeting and whitney is wondering how she did, instead of 'i'm sure you were great' (ahem, the CORRECT thing to SAY to your FRIEND, you ahole), LC says 'well, i guess we'll find out at the teen vogue dinner tomorrow night'.
!!!
you bitch! be nice!
but worst, WORST...at the dinner in question, LISA LOVE makes a little remark about the fanciness of whitnaaaay's dress for the meeting (oooh DEMERIT!) and then when W looks over at LC, she gives whit a SADFACE with JUTTING LOWER LIP. so so so fucking CONDESCENDING! LAUREN GO SCREW, your dress was like something angelina jolie wears to a UN summit or to get MADDOX at his french school kindergarten...some boring ass 'sexy mom' dress. SNOOZEFEST.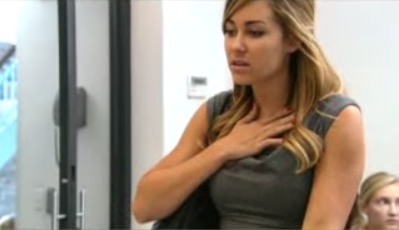 bored


so back to LC. i want to start calling her valley of the dolls. or jackie suz. because girlfriend has GOT to be on pills...she is all poo-faced yawny yawny ALL THE TIME. they are like, you are going to marc jacobs HQ, right now. (nothing). oh lauren, hey, you're gonna help with show casting (nothin). oh, hey, lauren..this is VENETIA SCOTT. (oh, hi, yawn suppression, hair toss) um, lc, this is MARC (oh hi...i'm alphabetizing)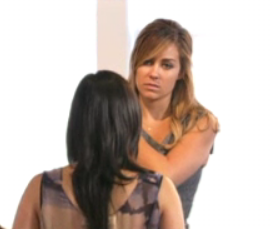 more bored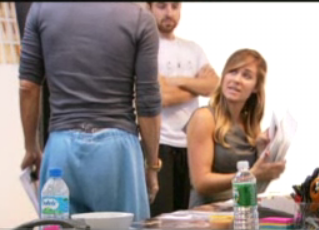 ALPHEBETIZING?!?
WAKE THE FUCK UP YOU DUMBDUMB!!!
also other stuff happened with brody and spencer but who really cares...can't wait till next week! justin bobby reappears! yaaaay!!