i have a special sweet emotion for fabiola beracasa. (i am gonna hazard a guess that most people who exist in a normal state of mind are like 'berawho?' which yeah, is the right answer. because she is a socialite. famous for absolutely nothing except going to parties. i know who she is from style.com party pictures, aaaand that's about it.)
so ever since the met gala where she went dressed like the CENTERPIECE at a QUINCENERA...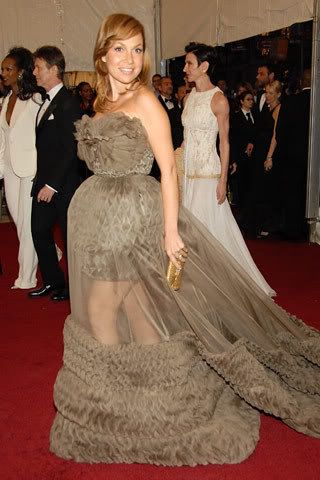 ...i have been mildly obsessed with what the fuck this
botox banana
likes to wear.
so i kind of choked on my morning coffee when i saw this pic of her giving 'ashley olsen's LES look of spring 06'.
a hipster palestinian scarf? really fabiola?
really?
it is october. of 2007. i mean, i guess this is how long it takes trends to travel from like delancey to tinsley mortimer's slumber party..approx a year and a half? kind of disappointed fabz. (gonna ignore the american apparel leggings. it's too much for me to handle)
pics from style.com, shocker