miss knowles if you're nastay seriously loves herself some high fashion performance outfits, meng. i love it! i give this bitch serious points..because let's be kind of honest. she is sort of the complete OPPOSITE of the 'ultimate' balenciaga girl (i am pretty sure that 'bootylicious sista' is NOT on the ghesquiere inspiration board) but she fucking WORKS IT OUT !
ok, so:
during the american music awards some twangy white southern lady sang this seriously demented bluegrass version of IRREPLACEABLE, and BEYONCE comes out and then sings it with her? umm..it's sort of next level. only watch this A)if you're sitting down and B) if you are prepared to have this in your head ALL DAY LONG.
i can't get a very close-up clear pic of her FEET but peep this (and just TRUST my fashion sonar).. the bonkers lego hockey mask heels of balenciaga fall 07
you know, these?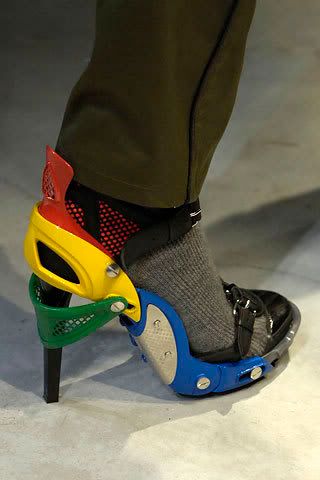 and may i please refresh your memory, if you need it, by showing you lady miss jigga at this past year's BET awards..balenciaga robot leggings! holy. fucking. genius. dude, mary-kate didn't even wear these anywhere and i am pretty sure she SHOWERS in balenciaga.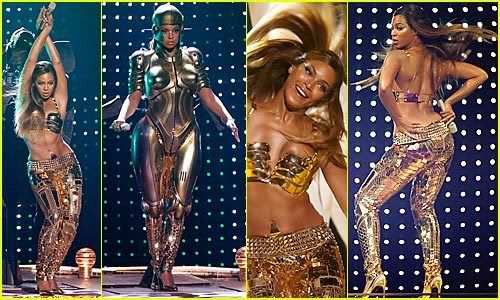 almost better than this, right??!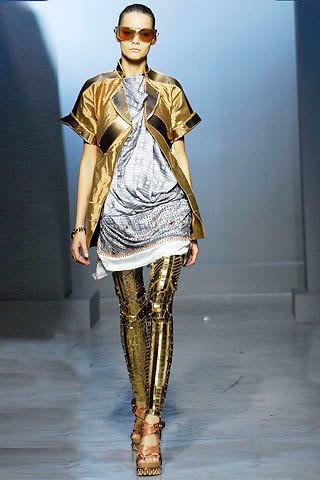 beyonce, i salute you. may i suggest this for the people's choice awards?