you can't fool me anymore lady, I AM SO ON TO YOU.
i have a theory that i have been working on a for few days now. i am convinced that amy winehouse and angelina jolie are the same person. (or at least, the bizzarro world version of each other)
YEAH, that's RIGHT.
jekyll to her hyde. mother theresa to her nancy spungen. hillary duff to her lindsay lohan.
ANGIE
, the saint, makes babies and movies and saves countries and wears a bun and conservative sweaters to conceal the monster rack.
AMY
, the black magic woman, puts on her kohl eye pencil of satan and unbuttons enough buttons to get the tits out and then smokes crack and writes songs in her own (and other people's) blood. (she doesn't need to haul around the giant handbags cuz everything fits up in there her beehive.)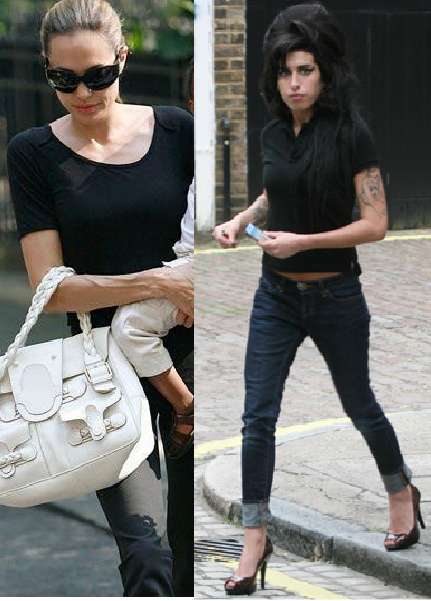 THINK ABOUT IT!
until i see them in the same room together...nancy drew here is sticking with her story.