OMG YOU GUYS
OMG
last night, after a bromantic dinner
brendan
and i were walking down ludlow to
dave
's house, looking forward to ice cream and
emmet otter's jugband christmas
(we are all really RAGING these days).
we are approaching delancey and and and and OMG AND it was PEREZ FUCKING HILTON, there, on the STREET! we both noticed at the same time and looked at each other like this: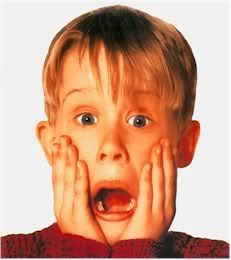 THEN
brendan yelled we love you perez! (nerds!)
THEN
..after a few moments of us freaking out and cracking up, we gawkerstalked him BACK up ludlow, past motor (not his steez)..
..past cake shop (no cupcakes, perez? oh ps i stopped to say hi to a friend whose cool meter shoots past mine and when i said 'can't talk, gotta run, stalking perez hilton' he looked at me like i was the biggest douche on planet asshole and was like, 'uh yeah, i don't know anything about that' )
..i was hoping that his destination was the fish because perez at max fish seems too good to be true and i guess it was because i caught up to bdonns, who was in full on 'to catch a predator' mode and he exclaimed, HE WENT LEFT! and we turned and i was like, oh barf, stanton social. which should not surprise, i guess it was really that or libation, right?
so we debated as to whether or not we follow him in and snap some photos..alas we felt lame enough and so we left...here is a reasonable facsimile of the scene, with me and brendan wondering, 'is that perez?' and in honor of the queen of blogging, i have added coke trails and cum dribbles, VIVA PEREZ!