these things were in the fashion area today and i was hopping around with joy. the lovely fashion gals-they tolerate me, but just barely.
dolce bag
..um sooo old lady thrift, i WANT IT! (i probably have it)
mint green
balenciaga robot outfit
! i made melissa try the shirt on. it costs EIGHT THOUSAND DOLLARS. (that is NOT an exaggeration). it's neoprene! it's a wetsuit top that costs the same as a 2 door sedan.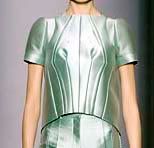 richard prince for louis vuitton
totes..not so much my style but pretty fucking coool