because this is a one in a million / once in a lifetime / blue moon situation....
i am giving the douchetorialist a PASS..and it is for this guy: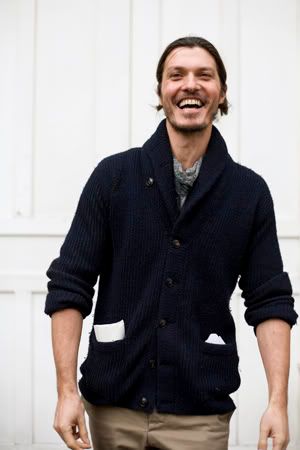 this is Beat. (bay-aht...use your french accents, mes amis!) he is a stylist. he is maybe one of the most handsome men i have ever met. ever. i met him on a photo shoot once and i was like, palpitated and wide-eyed and totally a loser, i am sure. he speaks french and wears ratty sneakers and i thought i was going to faint from love at first sight, i SWEAR.
so douchetorialist, CONGRATS on capturing my supercrush, i will try not to vomit when i read your retarded "SERVICE-Y" LAME SHIT like this: "
I love that neck scarf
. He said it is a regular silk pocket square and that he has a 15.5 shirt size so it sounds very achievable - for the right guys.."
(he didn't say it about beat, he said it about someone else. i just hate his tone so. so. SO MUCH)
and
i'll try not to roll my eyeballs right out of my HEAD after looking at your 9986th photo of jefferson hack on men's style.com. i mean, he is awesome, yes, but you are such a fucking KISS ASS that i feel like even
he
is like, 'dude, i'm just wearing a pea coat. slow your roll.'