there are a few things about 'capital F' FASHION that i just cannnnnnot take. the word 'chic' is like, reallllly up there. it is just so overused to the point of like...not meaning a goddamn thing. i especially hate when it is used on the tired, T I R E D context of FRENCH WOMEN. listen i love french shit. i love balenciaga, chloe, malajube, cheese, pepe le pew, raspberry macaroons from laduree, charlotte gainsbourg, carine, marie-amelie, ETC ETC fucking ETC
but
BUT
i want to erase EFFORTLESS CHIC from everyone's fash-cabulary. you sound like a dumbass. or old. it is like, the most boring thing ever.
yes, WE GET IT! WEARING ALL BLACK AVEC CIGARETTE AND AN OLD SCARF FROM UNDER YOUR BED IS OH SO FUCKING MIRACULOUS IF YOU ARE FROM PARIS. AND EXTRA POINTS FOR WRINKLES AND MESSY HAIR! IT MAKES YOU MORE "REAL"!!!! everyone just needs to fucking RELAX.
you guys know what this leading up to, right?
HATETORIALIST
!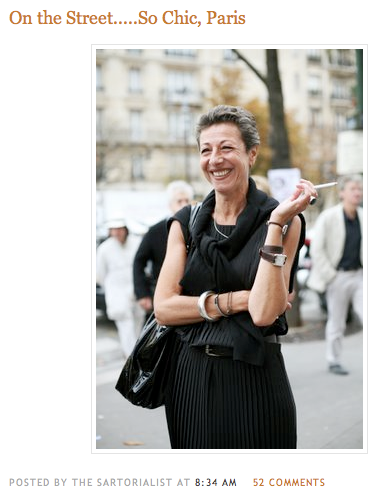 oh, ok. sure. what am i missing? yes, she looks like a very nice old lady. YEAH, I SAID IT. OLD. LADY. in an hermes watch. her haircut is revolting and the outfit is whatevsville. she looks like Malan from Project Runway's mom, actually. the faces are the same. the comments on this pictures are all so GLOWING and full of ADMIRATION for her AMAZING CHICNESS that i am in danger of puking on my keyboard. who the fuck likes this site, you guys? or at least, trusts this dude's TASTE? she must be someone important. he mainly likes to shoot editors and important fashion peeps. i mean, sorry but it's true. and most the time their outfits are just boring carbon copies of 'editor gal at the shows'. there are some exceptions, bien sur, sometimes he snaps someone and it is actually something i like-duh, carine. aya kanai. yvan the facehunter. anyone in comme. most girls in stockholm. BUT THE MAJORITY? fucking lame kissass shit.
uggggghhhhhhhhhh, world: you have once again forsaken me.