can you feel it? like a northern bullet? FASHION WEEK, BABIES, fashion week! omigodomigodomigod, all very exciting although...i have become a bit of that fashion a-hole that is like, new york? ho-hum. bring on PARIS. but still the looneytuney spectacle that is
marc
is enough to make one whole week interesting. and i almost always like
proenza
's fall better than their spring. and i'm really just being bratty; i will find something to post about every day, i know it.
so far the only show that has caught my eye is
KATY RODRIGUEZ
(someone loves their shoulders by margielaaaaa...)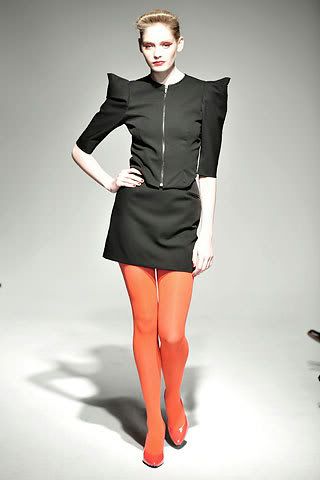 but the idea that really got me the monochromatic dress-tights-shoes combo..right before i looked at the show i had pulled this pic off the facehumter...where the fark do you find pink wedge boots like that?! stockholm, i guess. fuck! i love them!
katy rodriguez f/w 08 (style.com)
sad superpink swedish girl (facehunter, obvs)
oh and a PS that is ba-reaking-a my HEART...YVAN le faceunter is skipping NY fashion week to snap some more pretty pretty scandanavians. can you blame him? sadface!