god DAMN i love
the fashion spot
...first pictures of prada f/w 08! this actually improved my mood today... oh my god, i am a sick person.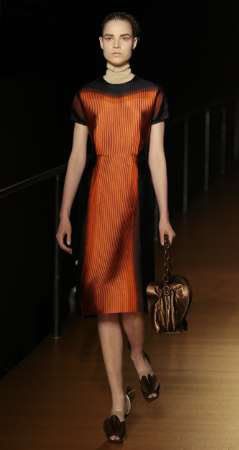 very lacey see through doily grandma's tablecloth as a skirt sort of sitchernation happenin..plus that weird orange dress up there that i kind of LOVE...more IN DEPTH ANALYSIS later/tomorrow when the whole show is up...
UPDATE
one more, METALLIC LEATHER HAIRNET! miuccia you and kanye need to get together and have a crafternoon. try to out-next-levs each other til one of you ends up wearing like, a swarovski encrusted parking cone with a toga made out of old game pieces from sorry!.