i never watch the grammy's! who ever cares? but my sister texted me about how amazaing KANYE is and then i was like..wait umba-rella-ella-ella, and beyonssssss, and the jigga and cracky winehouse...ok, let's watch this shit.
more on all of that later.
for now, i need to declare, and finally accept into my life, mr KANYE WEST as the COMMANDER-IN-CHIEF of NEXTLEVELZVILLE. i have to accept it.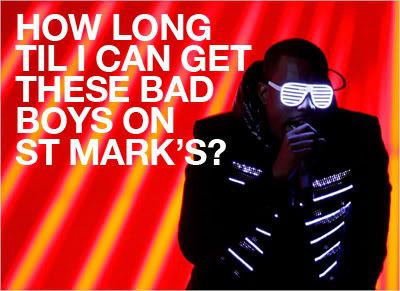 i just can't get over the distaste i developed for him when my ex-boyfriend directed a video with him and kanye showed up for the casting and requested 'some of them chinky-eyed black girls' from his asian producer. ("oh, is that offensive?" he asked her afterward). so i still think he is an ass but i accept his position as the head honcho.
why hasn't juergen teller shot him yet? and done a marc by marc campaign?