i mean...i could write 97 posts on the marc jacobs show.
do i start with how i decided against going? because the crush and the drama and the office politics (believe it) made me tired to just think about it..but then i find out the rumor was TRUE. SONIC YOUTH PLAYED AT THE SHOW! fuck. ah well.
should i focus on the weird 80sness of it? those headbands? (arden wohl is PSYCHED!) it looks like what "fashion shows" looked like in 80s movies..like just the wrong side of actual fashion. i am picturing the boss from 'don't tell mom the babysitter's dead'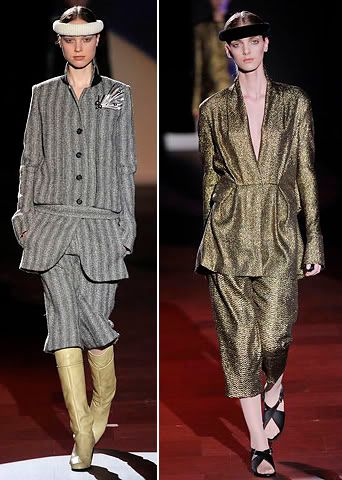 on style.com they quote marc as saying
he just wasn't that inspired this season
. um. it kinda shows. there are some interesting details on coats and shoes but on the whole it was just..challenging. (maybe a little boring?) maybe i need to think about it more. i will tell you this much i am not lusting after anything as of now and that makes me sad.
here was my only thought..is this jewelry inspired by cremaster 1?
you know, in the movie there were those silver weird cups filled with grapes and pearls signifying reproduction or testes or man's fucking inhumanity to man, i have no idea, i think matthew barney is the emporer's new clothes but that was the first thing i thought of when i saw the accessories...it's a possibility right? marc loves ART.